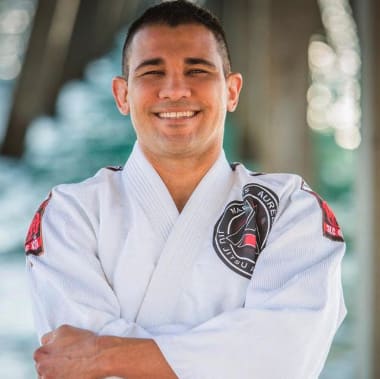 Marcus Aurelio
Master Marcus "Maximus" Aurelio is the the impressive driving force behind his academy. He is a 6th degree black belt in the art of Jiujitsu with extensive experience in western boxing, kickboxing, and Muay Thai. His signature dominating style and skill have been showcased in over twenty professional mixed martial arts competitions around the globe, in which he has never been summited or defeated in any competition, ever. He is a previous Pride Bushido Champion, submitting the undefeated Takanori Gomi and many others in the UFC's famous octagon. As a multiple time Pan Champion, PRIDE Fighting Champion, and the man who holds the record for the fastest submission in the history of the UFC, his contribution to professional mixed marital arts will forever be the lasting legacy of a proven champion.
Master Marcus is a highly sought after instructor who is frequently invited to travel throughout the United States and internationally to teach seminars on many aspects of skills development in the martial arts. He has changed the game of the professional athletes he has trained as well as correcting outdated self defense protocols for law enforcement departments and has trained many law enforcement officers in safe tactical takedown procedures and hand to hand combat.
While some schools may be trying to create blackbelts, Master Marcus is laser-focused on communicating his finely crafted skills to his students so that they may closely understand and quickly deploy the techniques that he has learned and used effectively to become a champion. He teaches his students that Jiujitsu is the great equalizer. No matter the size of an opponent, Jiujitsu levels the playing field, allowing one to effectively, definitively, and quickly control and defeat even the largest aggressor.
Master Marcus comes from the Takeo Yano lineage, which was the first to take root in the North of Brazil. Master Marcus studied under Master Francisco Sá and his son, Sazinho.
We are very grateful and proud to be in his lineage.
Rank in Brazilian Jiu-Jitsu: Fifth degree BJJ Black Belt
Accomplishments: UFC Fighter, Pride FC Fighter, Two Time Brazilian Champion in BJJ, Two Time Pan-American Champion in BJJ, ZST Grand Prix Champion, HOOK n SHOOT Champion, Ring of Fury Champion, and MMA USA Champion.

Record: 22-10-0
Victories: 15 Submissions (68%) – 4 KO/TKO (18%) – 3 Decisions (14%)
Losses: 0

Notables: Known for the fastest submission in UFC and MMA history (14 seconds) and never having been knocked out or submitted.